How to Write Letters: A 19th-Century Guide to the Lost Art of
Emily Post (1873–1960). Etiquette. 1922.
Chapter XXVIII.
Longer Letters THE ART of general letter-writing in the present day is shrinking until the letter threatens to become a telegram, a telephone message, a post-card. Since the events of the day are transmitted in newspapers with far greater accuracy, detail, and dispatch than they could be by the single effort of even Voltaire himself, the circulation of general news, which formed the chief reason for letters of the stage-coach and sailing-vessel days, has no part in the correspondence of to-day. 1 Taking the contents of an average mail bag as sorted in a United States post-office, about fifty per cent. is probably advertisement or appeal, forty per cent. business, and scarcely ten per cent. personal letters and invitations. Of course, love letters are probably as numerous as need be, though the long distance telephone must have lowered the average of these, too. Young girls write to each other, no doubt, much as they did in olden times, and letters between young girls and young men flourish to-day like unpulled weeds in a garden where weeds were formerly never allowed to grow. 2 It is the letter from the friend in this city to the friend in that, or from the traveling relative to the relative at home, that is gradually dwindling. As for the letter which younger relatives dutifully used to write—it has gone already with old-fashioned grace of speech and deportment. 3 Still, people do write letters in this day and there are some who possess the divinely flexible gift for a fresh turn of phrase, for delightful keenness of observation. It may be, too, that in other days the average writing was no better than the average of to-day. It is naturally the letters of those who had unusual gifts which have been preserved all these years, for the failures of a generation are made to die with it, and only its successes survive. 4 The difference though, between letter-writers of the past and of the present, is that in other days they all tried to write, and to express themselves the very best they knew how—to-day people don't care a bit whether they write well or ill. Mental effort is one thing that the younger generation of the "smart world" seems to consider it unreasonable to ask—and just as it is the fashion to let their spines droop until they suggest nothing so much as Tenniel's drawing in Alice in Wonderland of the caterpillar sitting on the toad-stool—so do they let their mental faculties relax, slump and atrophy. 5 To such as these, to whom effort is an insurmountable task, it might be just as well to say frankly: If you have a mind that is entirely bromidic, if you are lacking in humor, all power of observation, and facility for expression, you had best join the ever-growing class of people who frankly confess, "I can't write letters to save my life!" and confine your literary efforts to picture post-cards with the engaging captions "X is my room," or "Beautiful weather, wish you were here." 6 It is not at all certain that your friends and family would not rather have frequent post-cards than occasional letters all too obviously displaying the meagerness of their messages in halting orthography. 7
BEGINNING A LETTER
For most people the difficulty in letter-writing is in the beginning and the close. Once they are started, the middle goes smoothly enough, until they face the difficulty of the end. The direction of the Professor of English to "Begin at the beginning of what you have to say, and go on until you have finished, and then stop," is very like a celebrated artist's direction for painting: "You simply take a little of the right color paint and put it on the right spot."
8
HOW NOT TO BEGIN
Even one who "loves the very sight of your handwriting," could not possibly find any pleasure in a letter beginning:
"I have been meaning to write you for a long time but haven't had a minute to spare."
9
Or:
"I suppose you have been thinking me very neglectful, but you know how I hate to write letters."
10
Or:
"I know I ought to have answered your letter sooner, but I haven't had a thing to write about."
11
The above sentences are written time and again by persons who are utterly unconscious that they are not expressing a friendly or loving thought. If one of your friends were to walk into the room, and you were to receive him stretched out and yawning in an easy chair, no one would have to point out the rudeness of such behavior; yet countless kindly intentioned people begin their letters mentally reclining and yawning in just such a way.
12
HOW TO BEGIN A LETTER
Suppose you merely change the wording of the above sentences, so that instead of slamming the door in your friend's face, you hold it open:
"Do you think I have forgotten you entirely? You don't know, dear Mary, how many letters I have written you in thought."
13
Or:
"Time and time again I have wanted to write you but each moment that I saved for myself was always interrupted by—
something."
14
One of the frequent difficulties in beginning a letter is that your answer is so long delayed that you begin with an apology, which is always a lame duck. But these examples indicate a way in which even an opening apology may be attractive rather than repellent. If you are going to take the trouble to write a letter, you are doing it because you have at least remembered some one with friendly regard, or you would not be writing at all. You certainly would like to convey the impression that you want to be with your friend in thought for a little while at least—not that she through some malignant force is holding you to a grindstone and forcing you to the task of making hateful schoolroom pot-hooks for her selfish gain.
15
A perfect letter has always the effect of being a light dipping off of the top of a spring. A poor letter suggests digging into the dried ink at the bottom of an ink-well.
16
It is easy to begin a letter if it is in answer to one that has just been received. The news contained in it is fresh and the impulse to reply needs no prodding.
17
Nothing can be simpler than to say: "We were all overjoyed to hear from you this morning," or, "Your letter was the most welcome thing the postman has brought for ages," or, "It was more than good to have news of you this morning," or, "Your letter from Capri brought all the allure of Italy back to me," or, "You can't imagine, dear Mary, how glad I was to see an envelope with your writing this morning." And then you take up the various subjects in Mary's letter, which should certainly launch you without difficulty upon topics of your own.
18
ENDING A LETTER
Just as the beginning of a letter should give the reader an impression of greeting, so should the end express friendly or affectionate leave-taking. Nothing can be worse than to seem to scratch helplessly around in the air for an idea that will effect your escape.
19
"Well, I guess I must stop now," "Well, I must close," or, "You are probably bored with this long epistle, so I had better close."
20
All of these are as bad as they can be, and suggest the untutored man who stands first on one foot and then on the other, running his finger around the brim of his hat, or the country girl twisting the corner of her apron.
21
HOW TO END A LETTER
An intimate letter has no end at all. When you leave the house of a member of your family, you don't have to think up an especial sentence in order to say good-by. Leave-taking in a letter is the same:
"Good-by, dearest, for to-day
Devotedly,
Kate."
22
Or:
"Best love to you all,
Martin."
23
Or:
"Will write again in a day or two.
Lovingly,
Mary."
24
Or:
"Luncheon was announced half a page ago! So good-by, dear Mary, for to-day."
25
The close of a less intimate letter, like taking leave of a visitor in your drawing-room, is necessarily more ceremonious. And the "ceremonious close" presents to most people the greatest difficulty in letter-writing.
26
It is really quite simple, if you realize that the aim of the closing paragraph is merely to bring in a personal hyphen between the person writing and the person written to.
27
"The mountains were beautiful at sunset." It is a bad closing sentence because "the mountains" have nothing personal to either of you. But if you can add "—they reminded me of the time we were in Colorado together," or "—how different from our wide prairies at home," you have crossed a bridge, as it were.
28
Or:
"We have had a wonderful trip, but I do miss you all at home, and long to hear from you soon again."
29
Or (from one at home):
"Your closed house makes me very lonely to pass. I do hope you are coming back soon."
30
Sometimes an ending falls naturally into a sentence that ends with your signature. "If I could look up now and see you coming into the room, there would be no happier woman in the whole State than
Your devoted mother."
31
LETTERS NO ONE CARES TO READ
LETTERS OF CALAMITY
First and foremost in the category of letters that no one can possibly receive with pleasure might be put the "letter of calamity," the letter of gloomy apprehension, the letter filled with petty annoyances. Less disturbing to receive but far from enjoyable are such letters as "the blank," the "meandering," the "letter of the capital I," the "plaintive," the "apologetic." There is scarcely any one who has not one or more relatives or friends whose letters belong in one of these classes.
32
Even in so personal a matter as the letter to an absent member of one's immediate family, it should be borne in mind, not to write
needlessly
of misfortune or unhappiness. To hear from those we love how ill or unhappy they are, is to have our distress intensified in direct proportion to the number of miles by which we are separated from them. This last example, however, has nothing in common with the choosing of calamity and gloom as a subject of welcome tidings in ordinary correspondence.
33
The chronic calamity writers seem to wait until the skies are darkest, and then, rushing to their desk, luxuriate in pouring all their troubles and fears of troubles out on paper to their friends.
34
LETTERS OF GLOOMY APPREHENSION
"My little Betty ["My little" adds to the pathos much more than saying merely "Betty"] has been feeling miserable for several days. I am worried to death about her, as there are so many sudden cases of typhoid and appendicitis. The doctor says the symptoms are not at all alarming as yet, but doctors see so much of illness and death, they don't seem to appreciate what anxiety means to a mother," etc.
35
Another writes: "The times seem to be getting worse and worse. I always said we would have to go through a long night before any chance of daylight. You can mark my words, the night of bad times isn't much more than begun."
36
Or, "I have scarcely slept for nights, worrying about whether Junior has passed his examinations or not."
37
LETTERS OF PETTY MISFORTUNES
Other perfectly well-meaning friends fancy they are giving pleasure when they write such "news" as: "My cook has been sick for the past ten days," and follow this with a page or two descriptive of her ailments; or, "I have a slight cough. I think I must have caught it yesterday when I went out in the rain without rubbers"; or, "The children have not been doing as well in their lessons this week as last. Johnny's arithmetic marks were dreadful and Katie got an E in spelling and an F in geography." Her husband and her mother would be interested in the children's weekly reports, and her own slight cough, but no one else. How could they be?
38
If the writers of all such letters would merely read over what they have written, and ask themselves if they could find pleasure in receiving messages of like manner and matter, perhaps they might begin to do a little thinking, and break the habit of cataleptic unthinkingness that seemingly descends upon them as soon as they are seated at their desk.
39
THE BLANK
The writer of the "blank" letter begins fluently with the date and "Dear Mary," and then sits and chews his penholder or makes little dots and squares and circles on the blotter—utterly unable to attack the cold, forbidding blankness of that first page. Mentally, he seems to say: "Well, here I am—and now what?" He has not an idea! He can never find anything of sufficient importance to write about. A murder next door, a house burned to the ground, a burglary or an elopement could alone furnish material; and that, too, would be finished off in a brief sentence stating the bare fact.
40
A person whose life is a revolving wheel of routine may have really very little to say, but a letter does not have to be long to be welcome—it can be very good indeed if it has a message that seems to have been spoken.
Dear Lucy:
"Life here is as dull as ever—duller if anything. Just the same old things done in the same old way—not even a fire engine out or a new face in town, but this is to show you that I am thinking of you and longing to hear from you."
41
Or:
"I wish something really exciting would happen so that I might have something with a little thrill in it to write you, but everything goes on and on—if there were any check in its sameness, I think we'd all land in a heap against the edge of the town."
42
THE MEANDERING LETTER
As its name implies, the meandering letter is one which dawdles through disconnected subjects, like a trolley car gone down grade off the track, through fences and fields and flower-beds indiscriminately. "Mrs. Blake's cow died last week, the Governor and his wife were on the Reception Committee; Mary Selfridge went to stay with her aunt in Riverview; I think the new shade called Harding blue is perfectly hideous."
43
Another that is almost akin to it, runs glibly on, page after page of meaningless repetition and detail. "I thought at first that I would get a gray dress—I think gray is such a pretty color, and I have had so many blue dresses. I can't decide this time whether to get blue or gray. Sometimes I think gray is more becoming to me than blue. I think gray looks well on fair-haired people—I don't know whether you would call my hair fair or not? I am certainly not dark, and yet fair hair suggests a sort of straw color. Maybe I might be called medium fair. Do you think I am light enough to wear gray? Maybe blue would be more serviceable. Gray certainly looks pretty in the spring, it is so clean and fresh looking. There is a lovely French model at Benson's in gray, but I can have it copied for less in blue. Maybe it won't be as pretty though as the gray," etc., etc. By the above method of cud-chewing, any subject, clothes, painting the house, children's school, planting a garden, or even the weather, need be limited only by the supply of paper and ink.
44
THE LETTER OF THE "CAPITAL I"
The letter of the "capital I" is a pompous effusion which strives through pretentiousness to impress its reader with its writer's wealth, position, ability, or whatever possession or attribute is thought to be rated most highly. None but unfortunate dependents or the cringing in spirit would subject themselves to a second letter of this kind by answering the first. The letter which hints at hoped-for benefits is no worse!
45
THE LETTER OF CHRONIC APOLOGY
The letter written by a person with an apologetic habit of mind, is different totally from the sometimes necessary letter of genuine apology. The former is as senseless as it is irritating:
"It was so good of you to come to my horrid little shanty. [The house and the food she served were both probably better than that of the person she is writing to.] I know you had nothing fit to eat, and I know that everything was just all wrong! Of course, everything is always so beautifully done at everything you give, I wonder I have the courage to ask you to dine with me."
46
THE DANGEROUS LETTER
A pitfall that those of sharp wit have to guard against is the thoughtless tendency toward writing ill-natured things. Ridicule is a much more amusing medium for the display of a subject than praise, which is always rather bromidic. The amusing person catches foibles and exploits them, and it is easy to forget that wit flashes all too irresistibly at the expense of other people's feelings, and the brilliant tongue is all too often sharpened to rapier point. Admiration for the quickness of a spoken quip, somewhat mitigates its cruelty. The exuberance of the retailer of verbal gossip eliminates the implication of scandal, but both quip and gossip become deadly poison when transferred permanently to paper.
47
PERMANENCE OF WRITTEN EMOTION
For all emotions written words are a bad medium. The light jesting tone that saves a quip from offense can not be expressed; and remarks that if spoken would amuse, can but pique and even insult their subject. Without the interpretation of the voice, gaiety becomes levity, raillery becomes accusation. Moreover, words of a passing moment are made to stand forever.
48
Anger in a letter carries with it the effect of solidified fury; the words spoken in reproof melt with the breath of the speaker once the cause is forgiven. The written words on the page fix them for eternity.
49
Love in a letter endures likewise forever.
50
Admonitions from parents to their children may very properly be put on paper—they are meant to endure, and be remembered, but momentary annoyance should never be more than briefly expressed. There is no better way of insuring his letters against being read than for a parent to get into the habit of writing irritable or fault-finding letters to his children.
51
THE LETTERS OF TWO WIVES
Do you ever see a man look through a stack of mail, and notice that suddenly his face lights up as he seizes a letter "from home"? He tears it open eagerly, his mouth up-curving at the corners, as he lingers over every word. You know, without being told, that the wife he had to leave behind puts all the best she can devise and save for him into his life as well as on paper!
52
Do you ever see a man go through his mail and see him suddenly droop—as though a fog had fallen upon his spirits? Do you see him reluctantly pick out a letter, start to open it, hesitate and then push it aside? His expression says plainly: "I can't face that just now." Then by and by, when his lips have been set in a hard line, he will doggedly open his letter to "see what the trouble is now."
53
If for once there is no trouble, he sighs with relief, relaxes, and starts the next thing he has to do.
54
Usually, though, he frowns, looks worried, annoyed, harassed, and you know that every small unpleasantness is punctiliously served to him by one who promised to love and to cherish and who probably thinks she does!
55
THE LETTER EVERYONE LOVES TO RECEIVE
The letter we all love to receive is one that carries so much of the writer's personality that she seems to be sitting beside us, looking at us directly and talking just as she really would, could she have come on a magic carpet, instead of sending her proxy in ink-made characters on mere paper.
56
Let us suppose we have received one of those perfect letters from Mary, one of those letters that seem almost to have written themselves, so easily do the words flow, so bubbling and effortless is their spontaneity. There is a great deal in the letter about Mary, not only about what she has been doing, but what she has been thinking, or perhaps, feeling. And there is a lot about us in the letter—nice things, that make us feel rather pleased about something that we have done, or are likely to do, or that some one has said about us. We know that all things of concern to us are of equal concern to Mary, and though there will be nothing of it in actual words, we are made to feel that we are just as secure in our corner of Mary's heart as ever we were. And we finish the letter with a very vivid remembrance of Mary's sympathy, and a sense of loss in her absence, and a longing for the time when Mary herself may again be sitting on the sofa beside us and telling us all the details her letter can not but leave out.
57
THE LETTER NO WOMAN SHOULD EVER WRITE
The mails carry letters every day that are so many packages of TNT should their contents be exploded by falling into wrong hands. Letters that should never have been written are put in evidence in court rooms every day. Many can not, under any circumstances, be excused; but often silly girls and foolish women write things that sound quite different from what they innocently, but stupidly, intended.
58
Few persons, except professional writers, have the least idea of the value of words and the effect that they produce, and the thoughtless letters of emotional women and underbred men add sensation to news items in the press almost daily.
59
Of course the best advice to a young girl who is impelled to write letters to men, can be put in one word,
don't!
60
However, if you are a young girl or woman, and are determined to write letters to an especial—or any other—man, no matter how innocent your intention may be, there are some things you must remember—remember so intensely that no situation in life, no circumstances, no temptation, can ever make you forget. They are a few set rules, not of etiquette, but of the laws of self-respect:
61
Never send a letter without reading it over and making sure that you have said nothing that can possibly "sound different" from what you intend to say.
62
Never so long as you live, write a letter to a man—no matter who he is—that you would be ashamed to see in a newspaper above your signature.
63
Remember that every word of writing is immutable evidence for or against you, and words which are thoughtlessly put on paper may exist a hundred years hence.
64
Never write anything that can be construed as sentimental.
65
Never take a man to task about anything; never ask for explanations; to do so implies too great an intimacy.
66
Never put a single clinging tentacle into writing. Say nothing ever, that can be construed as demanding, asking, or even being eager for, his attentions!
67
Always keep in mind and
never for one instant forget
that a third person, and that the very one you would most object to, may find and read the letter.
68
One word more: It is not alone "bad form" but laying yourself open to every sort of embarrassment and danger, to "correspond with" a man you slightly know.
69
PROPER LETTERS OF LOVE OR AFFECTION
If you are engaged, of course you should write love letters—the most beautiful that you can—but don't write baby-talk and other sillinesses that would make you feel idiotic if the letter were to fall into strange hands.
70
On the other hand, few can find objection to the natural, friendly and even affectionate letter from a young girl to a young man she has been "brought up" with. It is such a letter as she would write to her brother. There is no hint of coquetry or self-consciousness, no word from first to last that might not be shouted aloud before her whole family. Her letter may begin "Dear——" or even "Dearest Jack." Then follows all the "home news" she can think of that might possibly interest him; about the Simpsons' dance, Tom and Pauline's engagement, how many trout Bill Henderson got at Duck Brook, how furious Mrs. Davis was because some distinguished visitor accepted Mrs. Brown's dinner instead of hers, how the new people who have moved onto the Rush farm don't know the first thing about farming, and so on.
71
Perhaps there will be one "personal" line such as "we all missed you at the picnic on Wednesday—Ollie made the flap-jacks and they were too awful! Every one groaned: 'If Jack were only here!'" Or, "we all hope you are coming back in time for the Towns' dance. Kate has at last inveigled her mother into letting her have an all-black dress which we rather suspect was bought with the especial purpose of impressing you with her advanced age and dignity! Mother came in just as I wrote this and says to tell you she has a new recipe for chocolate cake that is even better than her old one, and that you had better have a piece added to your belt before you come home. Carrie will write you very soon, she says, and we all send love.
"Affectionately,
"Ruth."
72
THE LETTER NO GENTLEMAN WRITES
One of the fundamental rules for the behavior of any man who has the faintest pretension to being a gentleman, is that never by word or gesture must he compromise a woman; he never, therefore, writes a letter that can be construed, even by a lawyer, as damaging to any woman's good name.
73
His letters to an unmarried woman may express all the ardor and devotion that he cares to subscribe to, but there must be no hint of his having received especial favors from her.
74
DON'TS FOR CORRESPONDENCE
Never typewrite an invitation, acceptance, or regret.
75
Never typewrite a social note.
76
Be chary of underscorings and postcripts.
77
Do not write across a page already written on.
78
Do not use unmatched paper and envelopes.
79
Do not write in pencil—except a note to one of your family written on a train or where ink is unprocurable, or unless you are flat on your back because of illness.
80
Never send a letter with a blot on it.
81
Never sprinkle French, Italian, or any other foreign words through a letter written in English. You do not give an impression of cultivation, but of ignorance of your own language. Use a foreign word if it has no English equivalent, not otherwise unless it has become Anglicized. If hesitating between two words, always select the one of Saxon origin rather than Latin. For the best selection of words to use, study the King James version of the Bible.
82
Old-fashioned letter writing is the new fashion Inquirer Opinion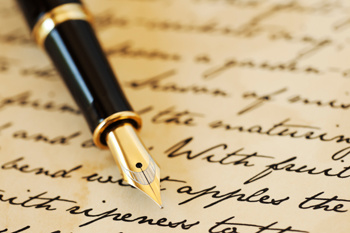 10 old letter-writing tips that work for emails - BBC News - m
Old Fashioned Letter Writing: Do people write letters anymore
28. Longer Letters. Post, Emily. 1922. Etiquette - m
The lost art of letter-writing Culture The Guardian
The Art of Letter Writing The Art of Manliness