Welcome to
Gallery International Fashion Fair: The success continues
27
Jun '08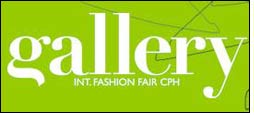 The success continues in August, when Gallery International Fashion Fair, which is held in Forum Copenhagen, presents more than 40 new design-driven brands and 8 new catwalk shows with great Scandinavian brands. The fashion fair grows from 4000 m2 to 5200 m2.
Gallery International Fashion Fair Copenhagen is expanding, when the fair in connection with Copenhagen Fashion Week from 7th - 10th August presents more than 40 new brands. Among the new brands, you will find Day Birger et Mikkelsen, Kenzo, Paul & Joe, Helmut Lang, Vanessa Bruno and Cheap Mondays.
• Gallery is expanding and we can sense the interest for the concept the fair is built up on. By expanding the exhibition area from 4000 to 5200 m2 we now have more space for more of the leading Scandinavian design-driven brands, says Christian Gregersen from Gallery.
Gallery already presents profiles such as Filippa K, Lagerfeld, Malene Birger, NOIR, Tiger of Sweden, Peter Jensen, Jens Laugesen, Wood Wood and Stella McCartney - brands that attracted around 12000 visitors in February.
Full throttle on activities
The renewal of Gallery is not only indoors. In August Gallery also will have a large show tent in front of the entrance to Forum Copenhagen - a tent that will have 8 catwalk shows with great Swedish and Finnish brands. The Copenhagen Fashion Week will also start here with a great opening show from Ann-Sofie Back on Wednesday at 15.00. The new show tent is available thanks to Darrol Mannequins, Phillips, Junckers and HTC phone.
Moreover, there will be a smaller tent with many different activities in the form of book receptions, presentations of new collections, film shows and not at least an award show.
Facts: Gallery
Gregersen Communication and CIFF are behind Gallery International Fashion Fair Copenhagen. Once again the co-operation results in shuttle buses between Bella Center and Forum and joint entrance to both fairs.
GALLERY INT. FASHION FAIR CPH
Bangkok
JFW
11 Fashion Accessories Made from Recycled Materials Wow
Best Fashion and Interior Designing College/Institute in India
Bette Davis filmography - Wikipedia
Chanel Forest Runway Show Fall 2018 - Chanel Fall 2018